Reflective Easter Trail – Alone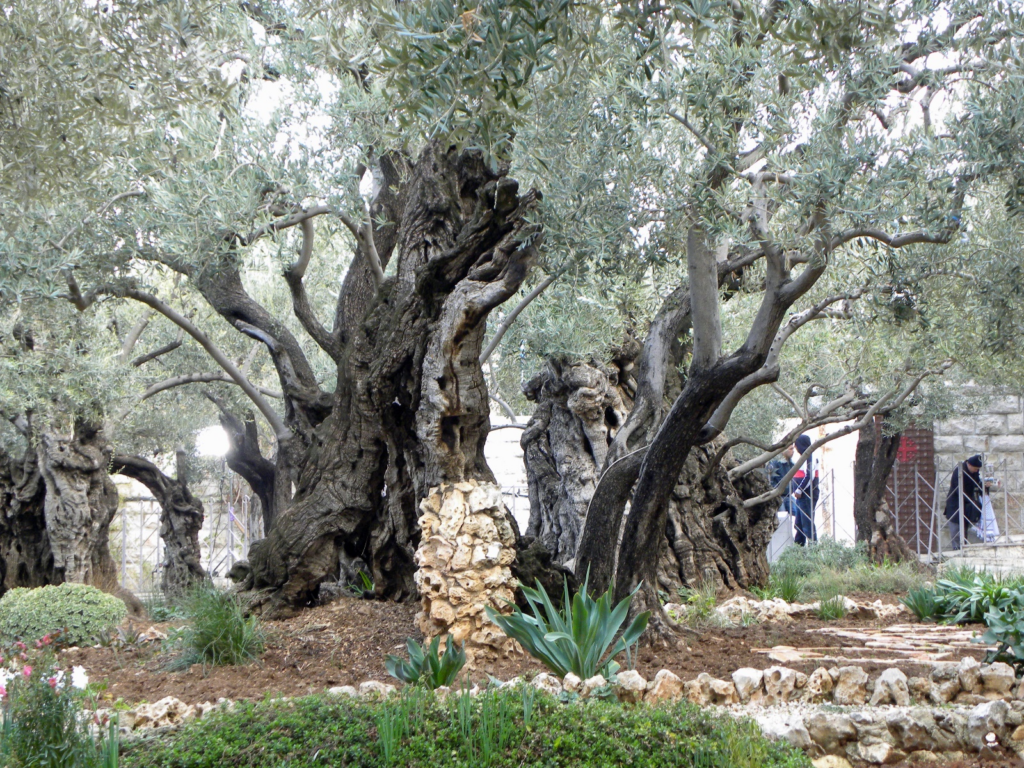 "One is nearer God's heart in a garden than anywhere else on earth."
Many people don't realise these words were written by the nineteenth century English hymn writer and poet, Dorothy Frances Blomfield Gurney, forming part of a longer poem, in which she moves from creation, to her garden, to the Garden of Gethsemane.
The garden of Gethsemane is where Jesus and the disciples went after sharing their last meal together, The Passover meal. Here, in the garden, Jesus, knowing he would soon be arrested, asked the disciples to keep watch while he prayed. The tired disciples soon fell asleep, leaving Jesus alone in his prayers, praying "not my will, but yours". Then strengthened by an angel he rose to face the Roman soldiers who had come to arrest him.
Where do you go when you're struggling? Who do you ask for help when life is difficult or when you're unhappy? Why not take a moment to be thankful for all who have and do help you through difficult times.
If you like the quote from Dorothy Frances Blomfield Gurney's poem, which is below, why not use her to words make a sign for your or someone else's garden?
THE Lord God planted a garden
In the first white days of the world,
And He set there an angel warden
In a garment of light enfurled.
So near to the peace of Heaven,
That the hawk might nest with the wren,
For there in the cool of the even
God walked with the first of men.
And I dream that these garden closes
With their shade and their sun-flecked sod
And their lilies and bowers of roses,
Were laid by the hand of God.
The kiss of the sun for pardon,
The song of the birds for mirth, –
One is nearer God's heart in a garden
Than anywhere else on earth.
For He broke it for us in a garden
Under the olive-trees
Where the angel of strength was the warden
And the soul of the world found ease.
https://www.all-creatures.org/poetry/godsgarden-dfg.html
We all have questions about many things:
but if you have any questions raised by what you're read here please email rector_bt@hotmail.com Alternatively keep an eye on our Facebook page: https://www.facebook.com/stmaryandallsouls for up and coming events or our web site: https://stmaryscoldstream.org.ukOr why not pop into one of the Services on over Easter:
Easter Services:
Sunday 10th April – Palm Sunday
9:30am – St. Mary's – Communion service
11:15am – Parish Church – Palm Sunday Service
Thursday 14th April – Maundy Thursday
5:00pm – Christ Church, Duns – Communion
7:00pm – Parish Church – Communion
Friday 15th April – Good Friday
10:00am – Walk of Witness – leaves Henderson Park at 10am, ends with tea & Hot Cross Buns in Parish Church Hall.
7:00pm – Parish Church – Good Friday Service
Sunday 17th April – Easter Day
9:30am – St Mary's – Easter Communion
11:15am – Parish Church – Easter Service